Originally posted by "

Troutman

"

With the arrival of yet another 1157 bulb type I can safely say I've tried every major 1157 on the market. Here is a rough guide.

Benefits of LED

The car makers installing oem LED brake lights claim their faster illumination time equates (from memory) to an extra 8 metres of warning to the driver behind at highway speeds. LEDs generally have a lifespan as long as 10 years straight, and are not damaged by being flicked on and off a lot. They are more vibration resistant, and produce very little heat, which over time would eliminate heat damage to

tail light

reflectors. Because LED's do not rely on heat to produce light and they are colour matched to the lense they shine through, they are extremely low in wattage terms compared to incandescent.

The downside is not only cost, but it is generally agreed that the best LED bulbs are rarely as consistently bright as conventional incandescent. Also, in some applications it will be necessary to add resistors due to malfunctioning indicator flashers etc that rely on the higher wattage of incandescent to function correctly.

Full retrofits

The ultimate has always been the full retrofits that involve taking apart the tail light, gutting the reflector and replacing it with a custom-made board of LEDs. This is commonly discussed on the LED forum of

HID Planet

and requires a certain level of knowledge. A much easier method involves taking truck LED lights and fitting them into a

passenger car

housing. If the right truck LED is available, this would not be too difficult. All these methods should provide better than OEM lighting and can be customised to individual tastes. But for most people, this is more work and/or risk than is justifiable.

LED types

In bulbs, there are 3 types of LEDs used. The 3mm, 5mm and the flux-type. The latter is easily the brightest, and is distinguished by being square in shape with a small 'dome' on top. The flux-type is the only one to have 4 pins so it will sit more flatly. The HID Planet guys will strongly urge retrofitters to only use flux LEDs, for example. Some bulbs use combinations of different LED types. High powered LEDs, such as 1, 3 and 5 watt versions, are not yet available in bulbs, presumably because they get extremely hot and can burn themselves out if not installed correctly.

What to look for in bulbs

The most important qualities in a bulb are as follows:

*

360 degree illumination:

The earliest LED bulbs (and cheap ones still available) shone only forward. They were visible as a small circle of light in an otherwise dark housing. This also means they would be invisible if not viewed from behind.

*

Good low/high distinction:

When LEDs replace 'dual filament' incandescent bulbs they do so by simply having 2 levels of brightness. But in most if not all cases, there is not a great difference between low and high modes. This is important when you are driving with the headlights on and apply the brakes.

*

Brightness:

Whilst this can be a weakness of most LEDs in general (short of OEM or full retrofit), some are far better than others. The general rule is that the highest number of the largest LEDs wins.

*

Easy fitment:

Small and weak LED bulbs are very easy to fit into the housing to replace other bulbs, whereas bulky ones can require a lot of filing around the tail light bulb entrance to fit.

Bulb suppliers

Some of the best LED bulb suppliers I have tried are as follows:

warden_jp2002 on Ebay

Warden has the best prices known to mankind and some of the cheapest shipping. Some people have had delays with arrival times but for me it has always been almost next day delivery. Their products are usually good but range is extremely limited. They only sell the most common bulb colours such as 1157 red and 1156 amber, so one must look elsewhere for specialist products.

superbrightleds.com

These guys have a big range, particularly for smaller bulbs for instrument clusters and so on. They also sell replacement flasher units which for some

cars

(not Milleniae) will solve indicator flashing problems (as does Warden). Their prices are generally good and they do bulk discounts for people buying 50+ bulbs, as I have done through them in the past.

http://superlumination.com

Almost identical to autolumination.com and possibly others, SL is the king of high-powered LEDs. For some smaller items the price premium is substantial, but nowhere else sells such a good range of big flux-type LEDs that in some cases seemingly can't be found elsewhere at all. They also sell resistor kits which are the 'other' means of solving indicator flash problems.

Bulb types

All my cars' exterior lighting is 1157 for

brake

lights, 1156 (the 'single filament' version) for indicators and 194 for parkers. Many other bulb types like 3156 or 7440 I have not dealt with. However, the bulb options are similar for all and the general rules below will apply to buyers of all types.

24-LED 1156/7

Utilising all 5mm LEDs, this is an older design now - but was the first 'good' bulb type I ever tried. It is similar to the early forward-facing LED bulbs except added 6 backwards-shining LEDs to illuminate the housing. The low/high distinction of the 1157 is a serious weakness, but otherwise I have found them the best budget solution and have had them in my cars for some time without incident.

- - - - - - - - - -

20-LED 1156/7 'Light Tower'

The famous tower, with 20 flux LEDs, is a bulky piece of equipment and can be difficult if not impossible to fit into some cars' housing without modification. They are also very expensive at up to US$25 each! However, they shine like no other in all directions, and are simply the brightest replacement bulb out there. There are 18-LED versions which lose 2 of the 5 forward-facing LEDs which are still impressive. Also available are 16-LED versions for 7440/7443 bulbs, and watered down 13-LED 1156/7 which are compromised, but should compare well to the the 24 LED mentioned earlier.

- - - - - - - - - -

48-LED 1156/7

This is only available through Warden and seduced me with its high LED count. However, it is a very small bulb in reality and uses all 3mm LEDs! As a result of its design, it gives good illumination of the housing but on a sunny day would be almost invisible. I would not recommend this bulb for conventional applications.

- - - - - - - - - -
35-LED 1156/7
Another Warden special, I was eager to try this one because it seemed to be a 24-LED design with a higher LED count. However, closer inspection has revealed that the only difference is that instead of 6 5mm LEDs shining backwards, there is a larger number of sideways/backwards shining 3mms. Back to back testing has revealed that the 35-LED is consistently dimmer than the 24-LED in both low and high modes.
It has long been a strong rumour that companies such as Osram are going to be introducing new 1156/7 bulbs to set new standards in the industry. However, there has been nothing seen as yet.
- - - - - - - - - -
5-LED 194
The 194 is the universal wedge bulb used in dash lighting, parkers, side indicators/markers, door lights and various other applications. However, for a long while there has only been 1 highly recommended type. The 5-LED has a single forward-facing flux LED, and 4 x 3mm LEDs shining around the sides. It is believed the only 194 to have sideways illumination.
Other 194 types include the 6-LED, which has 6 bright 3mm LEDs all facing forward. It appears as a spot of light but has very good visibility. It will suit some applications. The cheap 1-LED bulb is available in wide-angle and is a good budget solution.
It is also worth noting that a new 194 type is listed on the autolumination site and claims to be the best on the market. However, it has not been compared to the 5-LED at this time so the results are yet to be seen.
Pictures
As a practical demonstration, here are some recent pictures of my Eunos:
4 x 24-LED (5mm) 1157
red
brake lights
2 x 20-LED (flux) 1156
amber
Light Tower rear indicators
2 x 18-LED (flux) 1156
white
Light Tower reversing lights
5-LED (3mm & flux) 194
red
third stop light,
amber
side indicators,
white
number plate lights
Update: I notice
Autolumination.com
are calling the 20-LED tower the "Light Tower II", and selling the less powerful 18-LED as the Light Tower I. Apparently there is a substantial difference between them, and nothing on Ebay can compete with the Tower II.
Now for today's discussion:
Instrument Cluster LEDs
Every
car
I have thus far dealt with uses a combination of 194 and small wedge bulbs, known as 74. My Millenia, for example, has 3 x 194s and 1 x 74 for backlighting as BHR mentioned. As usual I use nothing but the 5-LED 194s which are available from all good LED suppliers. On the other hand, there seems to only be one type of 74 LED bulb, which thankfully is a wide-angle design that generally works well. The Millenia warning lights are mostly 74s with a few 194s as well. If the dials are not coloured, like the Millenia, you can replace the bulbs with any colour you may like. Remember that the usual rules apply - blue, for example, won't illuminate the red part of the tacho. I chose white for an OEM look. The below picture (which doesn't do justice) shows my dash with a 100% LED conversion, including details like colour-matched green 5-LED indicator bulbs and red 74 warning lights. To determine the appropriate colour of each warning light, I removed each bulb and shone a torch through. High beam is blue, traction control lights are amber, etc.
A few reasons why I have subsequently decided to redo the job:
* I later realised there is no park brake warning light among other things. The bulbs sometimes need to be removed and reinstalled 180 degrees out before they will work, and with some warning lights it is not possible to test them simply by turning the ignition on. I will be using a 12 volt power supply to test bulbs.
* Secondly, there has been some erratic behaviour with certain warning light bulbs not extinguishing completely when they are supposed to. To avoid too much stuffing around, I will replace these with standard bulbs.
* And thirdly, I have found a cheap fix for the age old problem of 74 bulbs being difficult to fit snugly into the stock holder - and the stock holder with the LED bulb being difficult to fit back into the cluster. Superbrightleds.com sells 74 bulbs with or without holders. The holders (currently US$1.79 each including any colour bulb) are proper LED ones which fit in perfectly and will be far more reliable. From now on I will not use anything less. Better yet, autolumination.com (though not superlumination) sells what I believe are the same 74 LED holders seperately, for just US$0.29 each! Great for piece of mind - I plan to make my bulk order tonight!
A couple of new Tower products are out from Autolumination. One is a red 1157 that flashes rapidly when pressed for the first 2 seconds, then illuminates constantly. There's a 24-LED version also. Scroll down at:
http://autoluminatio...m/1156_1157.htm
The second product is a combination white running light which can flash yellow as an indicator. The first 'useful' colour changing bulb I've seen. Imagine one of these in the parking light housing of a Milly - it would mean the lights in the bumper would no longer be needed, plus you'd have insanely powerful parkers!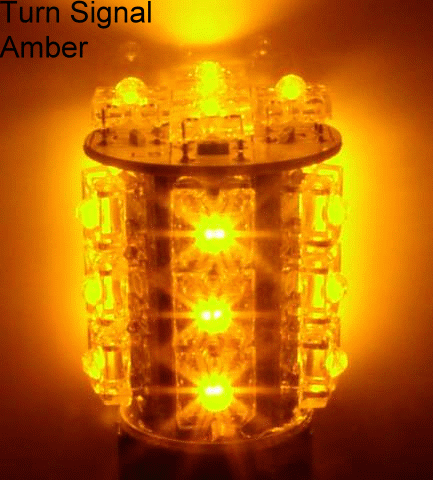 Trout's Site